A new theoretical framework for types of social integration.
An exploration of how immersive simulation might aid social integration.
Four examples of immersive simulation promoting social integration.
A description of the feature of immersive simulation programmes that align with the enablers of social integration.
Theoretical concepts of social integration applied to simulation which may provide inspiration for future research.
Introduction
Scholars fail to agree on a clear definition of social integration. It has been variously described as the strength and extent to which people are socially linked [–], and as a process that can 'enable all people to participate ' [], increase 'capacities for connectedness and citizenship ' [] and 'make parts into a whole ' []. These excerpts provide a flavour of the various definitions available. Social integration is generally considered to be positive, and successful social integration is linked to improved mental health, to the extent that poor social integration is associated with an increased risk of suicide [].
Most of the medical education literature concerning social integration is focused on workplace learning. Lave and Wenger originally described 'communities of practice ' [], whereby people with a common interest learn together. They went on to describe 'legitimate peripheral participation ' [], which emphasizes that new team members can participate in low-risk duties in order to improve their social status. Building on this work, Dornan et al. produced a model of experienced-based learning, which theorized that active participation of medical students on the ward might increase their social status within the ward team []. At the highest level of participation, 'contributing to patient care ' helps medical students to build relationships with other healthcare professionals []. This research emphasizes the importance of participating within the workplace for increasing social status, and therefore improving integration into the team.
In contrast to workplace learning, simulation has not traditionally been recognized as beneficial for social integration. In this essay, we will present a new conceptualization of social integration, and discuss how it applies to simulation using four case studies from our own context.
A conceptual framework for types of social integration
When describing interventions for improving social integration, we find it helpful to divide social integration into three distinct categories, as shown in Table 1.
In the following case studies, we will layer additional conceptual frameworks to illuminate ways in which immersive simulation has the potential to promote the three types of social integration shown in Table 1. For each case study, we will present a description of the simulation programme, an appropriate social integration framework, a description and diagram explaining how the framework relates to our programme and a discussion of the features of simulation-based education (SBE) which may promote this type of social integration.
Simulation as a conduit for social integration
The four case studies above discuss theoretical ways whereby participation in simulation activities may aid three types of social integration; absorption of newcomers, merging of two or more groups and improving group cohesion (in both geographically disparate and professionally disparate groups). We have highlighted features of SBE which may promote the various forms of social integration. A summary of these concepts and their relationships with the conceptual frameworks used to inform the case studies is shown in Figure 5.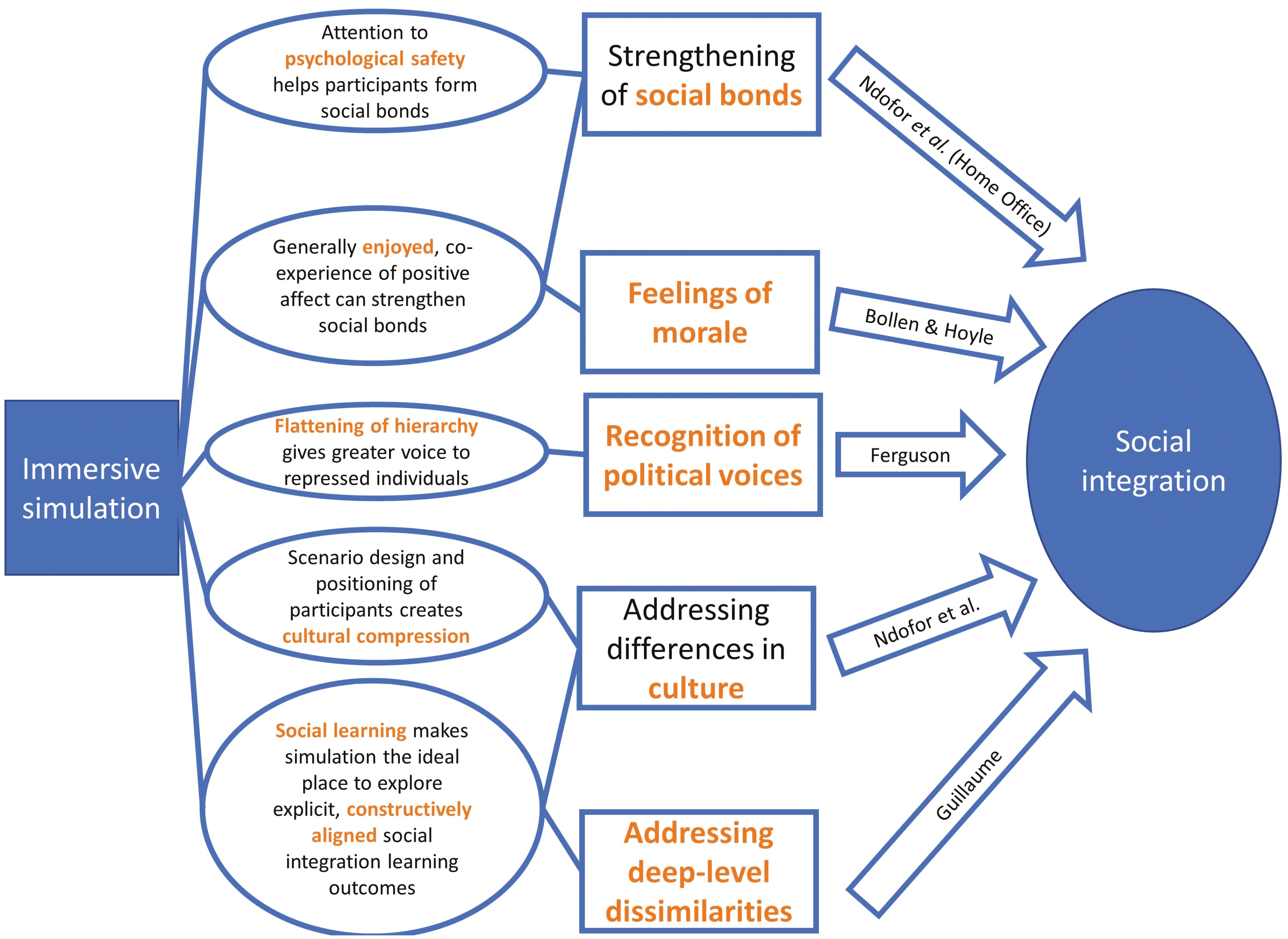 Justice, equity, diversity and inclusion
When considering group cohesion, we have presented examples of groups that are either geographically disparate or professionally disparate. We could also consider how simulation might act as a conduit for improving group cohesion when there are disparities related to groups marginalized on the grounds of race, age, class, gender, sexuality or ability. Marginalized groups may particularly benefit from the ability of simulation to flatten the hierarchy and shift power dynamics [,]. It may be possible to design simulation curricula that intentionally address, for example, racism in healthcare settings. In social work education, it has been suggested that critical race theory [] can form a theoretical basis for informative discussions around race and racism []. Critical race theory is a theoretical framework that simultaneously recognizes race as a social construct, but identifies racism as an ongoing, pervasive cultural practice within society []. Simulation debriefings, with their focus on psychological safety [] and interruption of power imbalances [] seem an ideal place to tackle this important issue.
Implications for research and practice
We hope that the ideas presented in this essay may provide a springboard for research on the topic of simulation for social integration. In particular, it would be valuable to explicitly study the effects of simulation on social integration through both discussion and observation, using constructivist or ethnographic techniques.
Regarding implications for practice, we would suggest that simulation programme designers consider social integration as a potential focus of their learning objectives. For example, learning objectives could include an improved understanding of the hospital culture. Simulations could be designed to improve role understanding between different groups, or intentionally place marginalized individuals in positions of greater power within a scenario. Design teams should ideally incorporate marginalized people as both designers and simulation facilitators. Simulation programme designers should be aware of the potential for simulation to act as a tool of cultural compression [], and to carefully consider which social values, beliefs and practices that participation might encourage.
Simulation facilitators should be especially attuned to the risks faced by non-integrated groups when attending simulation together. Facilitators might improve the likelihood of integration by aiming to expose deep-level similarities [] between groups and dispelling any misconceptions about dissimilarities. They should also be attuned to psychological safety [], and recognize the power of this in helping participants to form connections and for ensuring that the experience is enjoyable (which is an important feature in improving social integration). Facilitators should also recognize the power of simulation debriefings to flatten the hierarchy [], and in particular create an environment that makes it easier for marginalized groups to have their voices heard.
Simulation participants should be aware of the power of simulation to potentially influence social integration. They should be open to forging new relationships, and to gain a better understanding of the perspectives and beliefs of different groups. Those in positions of power should aim to be open and supportive to those who are marginalized, and those in marginalized groups should take the opportunity to make their voices heard in a psychologically safe space.
Conclusion
In this essay we have discussed our own conceptualization of the categories of social integration, as they relate to immersive healthcare simulation. We have layered conceptual frameworks from Ndofor et al., Guillaume, Bollen & Hoyle and Ferguson to help explain possible mechanisms by which immersive simulation might influence social integration within four different case studies. We have also described some of the common features of immersive simulation that make it an ideal conduit for both exploring and enacting social integration. Most of the concepts presented here are theoretical, and we hope that they provide inspiration for further research into this important component of healthcare education.