Introduction
General practice (GP) services in the United Kingdom remain under considerable strain, with demand often outstripping supply []. To more effectively manage workload and to allocate resources, the use of triage has become increasingly prevalent in GP. The Royal College of General Practitioners mandates that GP trainees should be able to 'prioritise, reprioritise and manage personal workload in an effective and efficient manner' [], yet there is little formal training given in triage decision-making.
Tactical Decision Games (TDGs) are a facilitated, low-fidelity tabletop simulation exercise using short-written patient scenarios with no single best solution []. Participants are presented with vignettes of information on a developing emergency scenario, and are given limited time to decide on a course of action, initially individually and then as a group which promotes debate and discussion []. TDGs have proved a useful, feasible and enjoyable approach to teaching behavioural skills such as prioritization to medical students and junior doctors in secondary care []. They have also been found to improve complex time-dependent decision-making in safety-critical industries outside of healthcare []. We are not aware of TDGs being used in the context of primary care, and we believe they provide an innovative and novel solution to develop essential triage decision-making skills for GP trainees.
Innovation
The design of this TDG was informed by pre-defined learning objectives which centred around common challenges faced by GPs during triaging. These themes included prioritization of acute workload, dealing with uncertainty and using time as a resource. The authors are experienced GPs, and used their real-life experience to develop 11 authentic and commonly encountered vignettes (Figure 1). In order to check authenticity and useability as a teaching resource, the TDG was tested and refined with two groups of experienced GP Educational Supervisors. The game was felt to reflect common presentations in GP and that it was suitable for teaching triage decisions.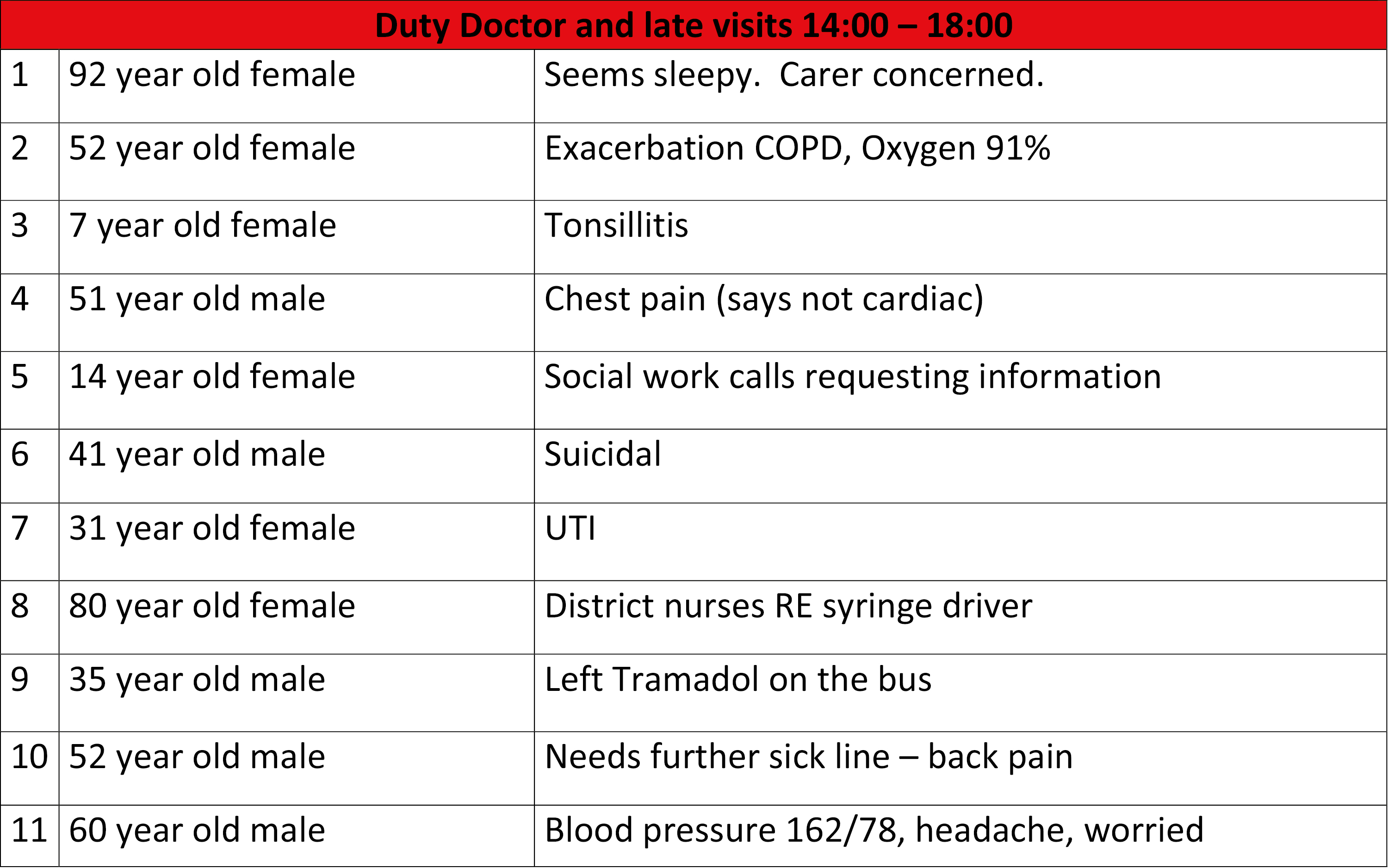 The TDG was piloted as a teaching resource with a group of eight GP trainees. The participants were presented with the TDG and were initially given 3 minutes to individually decide on the order they would approach this list. After this time a further 5 minutes were given for the group to work together to decide on a final order that they would approach the list of patients. A structured debriefing was carried out by a facilitator exploring the reasons why the participants had decided on this particular course of action, whilst encouraging self-reflection and discussion amongst the group members.
Evaluation
Each participant consented to involvement in this pilot and filled in a pre- and post-session evaluation questionnaire using Microsoft Forms. The questionnaire used a five-point Likert scale for participants to rate their agreement with statements regarding the session usefulness, interest, enjoyability, whether it met their training requirements and appropriateness for their stage of training from strongly disagree to strongly agree. Participants were also asked to rate their confidence in making triage decisions on a five-point Likert scale before and after the session, from not at all confident (1) to very confident (5). They were also asked to state their session take-home messages. The questionnaire data were analysed using descriptive statistics.
Outcomes
All participants completed the pre-session questionnaire and seven completed the post-session questionnaire. Participants were all in their final year of GP training and no participant had previously received formal teaching on triage decision-making. All respondents agreed or strongly agreed that the session was useful, interesting, enjoyable, met their training requirements and was appropriate for their stage of training. Average respondent confidence in making triage decisions increased from 2.9 to 4 out of 5. Participant take-home messages included a greater understanding of the resources available to them during triage, including other staff members and community services. Some also described a greater understanding of how to manage their time, including seeing their most unwell patients first whilst also leaving time for more complex presentations, including patients who require home visits. One participant commented on their relief that their decision-making was similar to their peers. This TDG therefore shows promise as a resource for teaching triage decision-making to GP specialty trainees.
What's next?
We plan to carry out focus groups with experienced GP educational supervisors in order to further explore the factors they take into account when making triage decisions.
This data will better inform the learning objectives and case mix within the Tactical Decision Game. This will make the experience more authentic and robust for use as a teaching tool. TDGs also show promise as a means of promoting interdisciplinary learning in healthcare, and as a resource for the induction of newly recruited members of the healthcare team.