Background
Communication is the target of many simulation activities []. Often the primary goal in simulation is to encourage teamwork and open communication between groups of health care providers to ensure the safe delivery of care. However, therapeutic communication with the patient is similarly important and can be practised using simulation-based educational experiences [,]. This type of communication is one of the reasons that simulated patient (SP)-based scenarios are vital to provider training [,]. Additionally, our increasingly diverse patient population in the United States (US) has brought about an ever more prevalent need for language training to overcome communication barriers within the health care system [–]. The COVID-19 pandemic and changes in global migration patterns have additionally highlighted the need for improved language and cultural communication practices within health care systems [,]. Studies have identified that language barriers can lead to poor patient outcomes and increased lengths of hospital stays [,,]. Interpretation services may be available through the use of in-house staff to provide translation, telephone or video conference language translation services or ideally, but less likely option, is trained providers who can communicate directly with patients in their preferred language [,,]. Proper communication in the preferred language and understanding of cultural needs is of critical importance when working to support diversity and inclusivity during the delivery of health care [–].
Language training has its own unique discipline and identification of best practices for mastery, and just as with any type of education, best methods can vary depending on the student's learning preferences [,]. Although long-standing work has been performed on language training effectiveness, more recent work is still emerging related to language training among health care providers [,]. Supporting health care delivery and cultural competency requires specific attention to the physical as well as social needs of the patient supported through appropriate language [,]. Evaluation of hospitality training for diverse groups puts emphasis on attending to visitor needs, and providing language training both before starting and during continuous practice in the form of continuing education [].
One language training concept that has been described to support training is English for Specific Purposes (ESP). In this theory, language training is incorporated into problem-based activities to allow learners to solve field-specific problems either real or simulated, and to keep the scope of instruction focused on a specific learner's need and scope of use []. To support this type of training in simulation, real-time audio communication would be necessary between the provider and the patient [,]. Additionally, some preliminary language training would be necessary to allow practice and application of specific health care vocabulary and concepts.
While many simulation-based experiences list communication as a primary objective, a paucity of literature has specifically evaluated immersive health care simulation activities as a method for providing foreign language instruction and practice and a specific call for research in this area of training in medicine has been proposed [,,]. This study was performed at a major health sciences centre located on the US–Mexico border. The centre houses a medical school, nursing school, biomedical sciences graduate programme, dental school and a multidiscipline graduate medical education programme. These programmes have access to a state-of-the-art health care simulation centre, accredited by the Society for Simulation in Healthcare with over 25,000 square feet of simulation space. The combined binational metropolitan region has an estimated 2.4 million people [,]. Over 80% of the population in this region speaks Spanish at home []. The training programmes of the health sciences centre provide care in hospitals and clinics in this region primarily to patients many of whom prefer to speak Spanish when receiving care.
The purpose of this study was to evaluate learners' perceived effectiveness of a traditional Spanish didactic training programme and an integrated Spanish-simulation training programme during their first month of training in an emergency medicine residency programme on the US–Mexico border.
Methods
This descriptive study employed convenience sampling for two groups of participants. Group 1 included EM residents who were PGY2, PGY3 or immediate recent graduates in the academic year 2018–2019 (n = 28) from a 3-year EM training programme located along the US–Mexico border. Group 2 was PGY1 residents during successive academic years from 2018 to 2021, for a total of 4 cohort years (n = 58). Each group had 12 interns and between one and four physician assistant (PA) trainees from a US Army training programme who participated in the same orientation to specialize in emergency medicine. All EM and PA residents were invited to participate. Group 1 received traditional Spanish language training which was a classroom-based didactic and conversational approach with verbal exchanges between learners and with the faculty instructor, and was delivered over 20 hours in a standard classroom setting during the month of July. This group also received the same simulation curriculum, but delivered in English. Group 2 participated in Spanish language training that was integrated with immersive scenarios. Following IRB review for the study, Group 1 completed an anonymous and voluntary retrospective survey related to their Spanish language training experience and their progression and current status with medical Spanish. The surveys for Group 1 were completed during their second or third year of training, although the training for these groups occurred during their first year. An outline of the study process for both groups is shown in Figure 1. Group 2 participants completed a pre-survey regarding their baseline Spanish language knowledge at the beginning of their first month of residency. This survey also assessed prior exposure to simulation to evaluate if the learners have ever used simulation including learning from SPs to acquire a foreign language before starting the current course. This integrated Spanish training included five 1-hour didactic sessions specific to five common patient complaints seen in the emergency department (ED). Each didactic session was followed on either the same or subsequent day by participation in a series of five Spanish-only scenarios that focused on the specific chief complaint. This didactic session reviewed relevant vocabulary for the upcoming cases. A sheet with quick reference Spanish terms and phrases was provided to trainees and is provided in the . The chief complaints and specific case presentations for each day are shown in Table 1. The cases have been refined since their initial use in 2013 to ensure consistent availability of patient history, labs, and possible imaging studies as well as defined debriefing plans for each. Overall design and delivery of the scenarios were in accordance with the described techniques of the Healthcare Simulation Standards of Best Practice [–]. After the Spanish simulation course, the intern class completed a post-survey to gauge its overall effectiveness.
Simulation case topics
Chest pain
Non-specific chest pain
ST-elevation myocardial infarction
Herpes zoster (Shingles)
Gastroesophageal reflux (GERD)
Aortic dissection
Shortness of breath
Pneumothorax
Pneumonia
Congestive heart failure
Pulmonary embolism
Asthma
Headache
Migraine
Post-lumbar puncture headache
Subdural haemorrhage
Subarachnoid haemorrhage
Meningitis
Abdominal pain
Abdominal aortic aneurysm
Cholecystitis
Pancreatitis
Small bowel obstruction
Appendicitis
Pelvic pain (gynaecologic)
Ovarian torsion
Ectopic pregnancy
Pyelonephritis
Pelvic inflammatory disease (PID)
Fibroids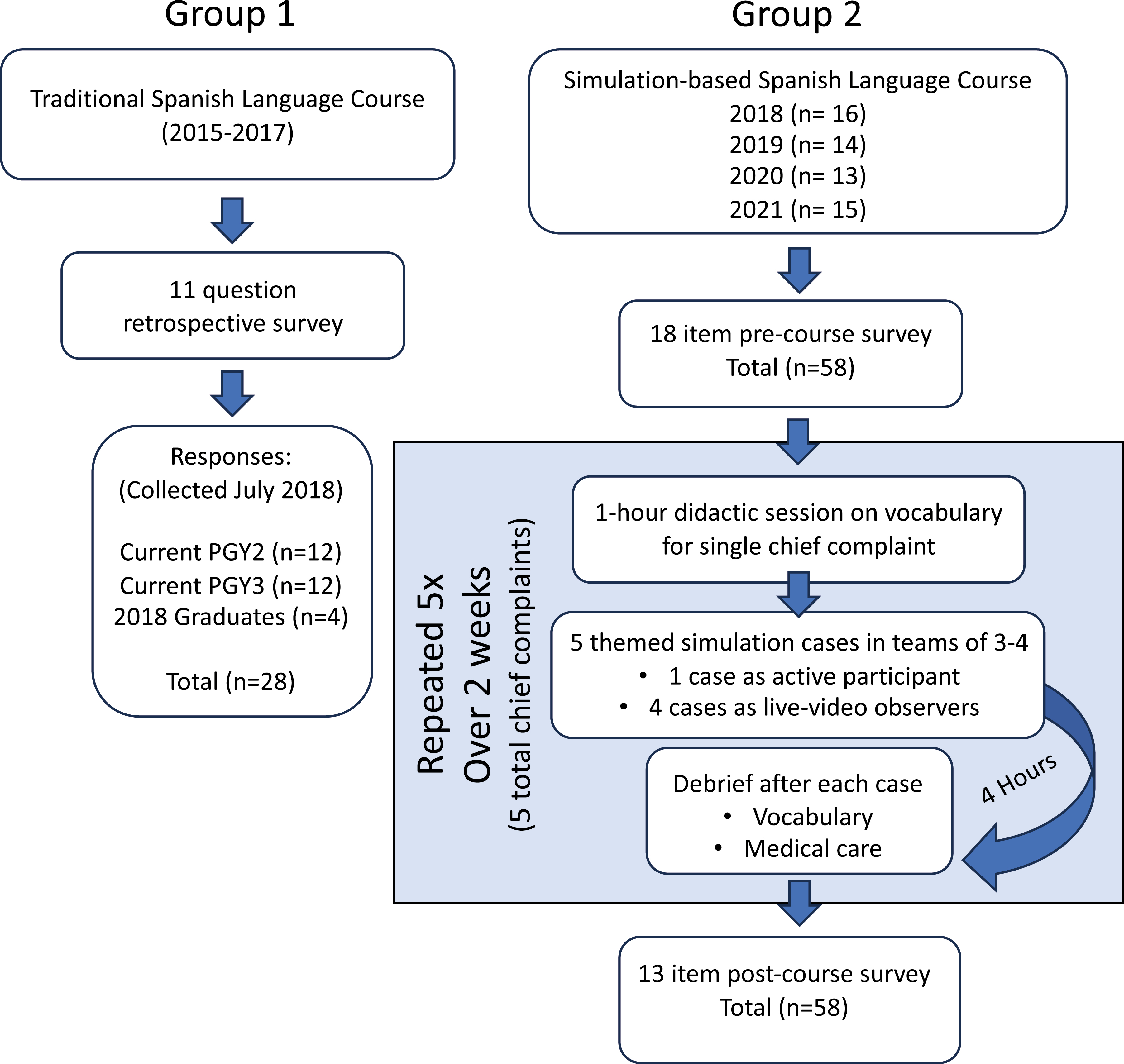 A Spanish language instructor, with over 30 years of experience in teaching Spanish, German and French, was hired to lead each pre-simulation didactic session. Using SP training practices, she learned each of the 25 cases and adapted relevant history with appropriate Spanish vocabulary for each case in concert with an EM physician who has advanced Spanish language skill. During the immersive simulations, the Spanish language instructor would communicate with the learners in the room using a real-time audio system as the voice of the manikin. The voice of the instructor was augmented with the assistance of a voice modulator as appropriate for each case. Learners were divided into five groups each with 3–4 members who would take turns leading the patient encounter. Each group saw a patient with a different diagnosis, but all scenarios on a given day had the same chief complaint (Table 1). The other groups who were not directly working with the patient during the case were in an adjacent room listening to and observing the encounter using the live audio–video stream from the simulation room. Following each scenario, all members of the intern class participated in a group debriefing session that included a discussion of the care delivered and a review of any specific terms or language encountered during the scenario. The simulation and debriefing sessions were facilitated by an EM faculty member with expertise in simulation and advanced Spanish language skill. The study was approved by the local Institutional Review Board and was granted a waiver of documentation of consent.
Results
Prior to analysis, all study variables were examined for accuracy of data input using univariate descriptive statistics. No out-of-range values, implausible responses or univariate outliers were noted when examining the data. This study employed two groups of learners with Group 1 having 28 participants and Group 2 having 58 participants. Group 1 participants completed a retrospective survey while Group 2 participants completed a pre- and post-simulation survey. All 58 participants in Group 2 who completed the pre-survey also completed the post-survey.
Forty per cent of Group 1 participants (n = 11) agreed that the traditional Spanish language training was effective; however, 71% (n = 20) believed that the clinical use of Spanish was a more effective method of learning. After 1–3 years of EM training serving a predominantly Hispanic patient population, 95% of Group 1 participants stated that they were comfortable speaking Spanish to patients while only 7% of these identified as Native Spanish speakers.
Table 2 contains the descriptive statistics for Group 2 variables at pre-simulation Spanish instruction. Prior to participating in the Spanish language training provided by the residency programme, 47% (n = 27) of learners had little to no Spanish proficiency or prior Spanish Exposure. Less than half had prior Medical Spanish instruction (57%, n = 33). For those learners that had prior medical Spanish instruction (n = 25), only 8% (n = 2) had been exposed to simulation as a teaching modality.
| Prior exposure to Spanish language | | |
| --- | --- | --- |
| Level of Spanish proficiency prior to residency (n = 58): | | |
| | None | 22% (n = 13) |
| | Basic | 24% (n = 14) |
| | Fair | 19% (n = 11) |
| | Advanced | 16% (n = 9) |
| | Native | 19% (n = 11) |
| Exposure prior to residency: | | |
| | None | 19% (n = 11) |
| | Minimal | 28% (n = 16) |
| | Moderate | 38% (n = 22) |
| | Extensive | 16% (n = 9) |
| Route of exposure: | | |
| | Music | 40% (n = 23) |
| | Television | 31% (n = 18) |
| | Family | 40% (n = 23) |
| | Friends | 48% (n = 28) |
| | Movies | 22% (n = 13) |
| | Travel | 48% (n = 28) |
| | Study abroad | 29% (n = 17) |
| | Self-study | 53% (n = 31) |
| | Formal education | 69% (n = 40) |
| Medical Spanish instruction prior to residency: | | |
| | Yes | 43% (n = 25) |
| | No | 57% (n = 33) |
| Prior medical Spanish instruction included: | | |
| | Simulation | 3% (n = 2) |
| | Computer/games | 17% (n = 10) |
| | Standardized patient | 19% (n = 11) |
| Type of learner: | | |
| (All that apply) | Visual | 62% (n = 18) |
| | Auditory | 21% (n = 6) |
| | Hands-on | 79% (n = 23) |
After the immersive Spanish simulation-training month, the learners were reassessed to determine the effectiveness of the training programme (see Table 3). Of the 58 learners, 6 did not participate in the Spanish didactic pre-simulation training but did participate in the simulation scenarios. These six were native Spanish speakers and tested with the language instructor in order to be dismissed from the didactic portion of the instruction. Among those who participated in all aspects of the medical Spanish language course (n = 52), 88% (n = 46) agreed that the course was effective. After the course, 31% (n = 18) of the learners stated that their Spanish proficiency was 'Fair', and 19% (n = 11) stated their Spanish proficiency was 'Advanced'. When all participants of the simulation-based Spanish language instruction were asked, 88% (n = 51) agreed that it improved Spanish learning.
| Post Spanish language simulation training | | |
| --- | --- | --- |
| Participated in pre-simulation Spanish instruction (n = 58) | | |
| | Yes (n = 52) | 90% |
| | No (n = 6) | 10% |
| Pre-simulation Spanish instruction course effective (n = 52) | | |
| | Completely disagree | 0% (n = 0) |
| | Somewhat disagree | 8% (n = 4) |
| | Neither agree nor disagree | 4% (n = 2) |
| | Somewhat agree | 40% (n = 21) |
| | Completely agree | 48% (n = 25) |
| Level of Spanish proficiency after simulation training (n = 58) | | |
| | None | 5% (n = 3) |
| | Basic | 22% (n = 13) |
| | Fair | 31% (n = 18) |
| | Advanced | 19% (n = 11) |
| | Native | 14% (n = 8) |
| Did [manikin-based] simulation improve learning Spanish? (n = 58) | | |
| | Completely disagree | 7% (n = 4) |
| | Somewhat disagree | 2% (n = 1) |
| | Neither agree nor disagree | 3% (n = 2) |
| | Somewhat agree | 16% (n = 9) |
| | Completely agree | 72% (n = 42) |
| Where manikins distracting? (n = 58) | | |
| | Yes | 3% (n = 2) |
| | No | 97% (n = 56) |
A significant increase in self-reported Spanish language proficiency was identified among learners who participated in both the didactic Spanish instruction and immersive simulation-based training from pre-simulation instruction (M = 2.84, SD = 1.44) to post-simulation instruction (M = 3.40, SD = 1.40; p < .001).
As shown in Tables 2 and 3, initially, 22% (n = 13) of learners felt they had 'no' Spanish language proficiency, but following this simulation-based training, only 5% (n = 3) reported 'no' proficiency. Following this pattern, 24% (n = 14) that had reported 'basic' language proficiency decreased to only 22% (n = 13) and the 19% (n = 11) who initially reported proficiency as 'fair' increased to 31% (n = 18). A smaller 3% (n = 2) increase was seen in those reporting 'advanced' Spanish-speaking proficiency following this course.
Discussion
This study evaluated the perceived effectiveness of an integrated Spanish simulation training programme to a historical control group that received traditional didactic Spanish language training during their first month of an EM residency on the US–Mexico border.
Learners in Group 2 had a statistically significant improvement in their perceptions of Spanish language ability from pre- to post-training. By learning Spanish in a medical simulation setting, the classroom atmosphere is taken away and the learners are able to practise communicating in a real-world setting. In this manner, the learner can initiate and guide the conversation while moderating their level of comfort with the new language. By practising the language skills in the context of actual patient care in a simulated environment where mistakes in vocabulary or pronunciation as well as medical care practices have no consequence can allow learners to test and try language much in the same way that they may test and try theories in medical care and treatment. This also supports Knowles concept of androgyny, specifically where adult learners have an inherent readiness to learn what is related to personally relevant tasks []. In this setting, residents know that communicating in Spanish will be an important part of their daily health care work for at least the next 3 years and thus have an increased interest to master the language skills required to provide care [].
Literature focused on second language acquisition in the setting of gaming/simulation has shown positive outcomes for learners. In a study at the Universidad Pontificia Comillas and Universidad Politecnica in Spain, students learning English as a second language used a computerized simulation. This allowed the learner time to process what was being asked in English and then have an option of how they would like to respond in English. This encouraged the students to have greater control over what content was discussed and removed a teacher-guided conversation. Overall, the students who participated in the language learning simulations obtained higher levels of communicative language ability []. In this study, we found that allowing the learner to guide the patient–provider conversation during a simulation-based activity similarly allows the learner to take the time to focus on the use of language at their own pace and review vocabulary specific to their patient care practice. As the language discussion during debriefing is learner centred, each learner is able to guide the review of specific terminology and phrasing felt to be relevant.
Another article focused on simulated computer-assisted language learning, while emphasizing the importance of the learner having the opportunity to actively engage in learning a language while having the opportunity to request clarification with comprehension checks. When the learner is the primary leader in the conversation, there is enhancement of motivation, participation and enjoyment, which leads to increased learning of the second language [].
Prior medical education literature has examined language training effectiveness and found subjective benefit to language acquisition, and also improved patient perceptions about cultural competence that are related to provider perception of language skill [,]. One prior study implemented a 10-week Spanish training course for in-practice providers in a paediatric emergency department. They utilized three SP encounters to evaluate history-taking skill before and after the course. This intervention similarly identified improved patient perception of concern, comfort, respect and listening []. However, a language course that is integrated with simulation-based training techniques, including debriefing to assist with language acquisition, has not been previously described in the literature.
Compared to historical controls, EM residents found the simulation-based Spanish course to be more effective than the previously used didactic only curriculum. Only 39% (n = 11) in Group 1 found the previous didactic training effective, compared to 88% (n = 51) in Group 2 for the simulation-based course.
Adding in language training as a component of simulation was viewed favourably by the majority of surveyed EM residents. This simulation design also focused on teamwork activities in the delivery of care and allowed learners to work with one another to learn words and phrases during the simulation. Only 6 learners in Group 2 reported that they wanted more solo learning compared to 26 learners who requested more group training. The most common request among learners at post-test was to increase the number of manikin-based cases (n = 19) compared to one participant who wanted fewer.
Limitations
While overall improvements were noted in participants' perception of Spanish language proficiency, this is not yet correlated with actual abilities. Although a high percentage of residents had a self-perceived proficiency, prior studies have warned that language training is not meant to be a replacement for medical interpreters, hence a discussion about how to approach unknown or uncomfortable language and how to incorporate the use of interpreters was also included during the simulation sessions []. Future studies should examine with objective testing, patient satisfaction and provider language abilities before and after participation in a simulation-based Spanish language course.
Conclusions
Overall, the study findings suggest that simulation-based Spanish training was seen as more effective than traditional didactic instruction and led to increased perceived proficiency across all levels of Spanish-speaking ability.
Key Points
Language barriers in health care are a concern that can be targeted with simulation training.
Language training in context is important for learning.
Language training with simulated patient-based scenarios are viewed favourably by learners.