Demonstrates a hybrid method that might make it possible to describe, explain and understand transfer from simulation-based training to competency in everyday clinical practice.
A hybrid method with a Ricœur-inspired analysis and a Cognitive Event Analysis (RI-CEA) is time consuming and needs further development. This work can be the groundwork for further research in capturing transfer of learning.
The RI-CEA method is the first step in developing a tool for improving transfer of human factor skills.
Introduction
Internationally, simulation-based training (SBT) is increasingly used in healthcare to train qualified personnel's technical and human factor skills (HFS) []. Consequently, there is a need to understand if and how HFS transfers from SBT to competency [] in everyday clinical practice.
This article argues that a hybrid method is needed to clarify how knowledge and competencies are transferred from SBT into competency in clinical practice. Due to the complexity of tracking changes inb human behaviour, such a hybrid method must comprise at least (1) a theoretical framework that integrates social, psychological and cognitive aspects of behaviour; (2) methods for describing, understanding and explaining how HFS can become clinical competency; and (3) a factual investigation into how HFS is taught and adapted into complex clinical practice. This article proposes that combining a broad theoretical framework and hybridity of methods can provide insights into the effectiveness of SBT in improving healthcare personnel's HFS performance in clinical practice.
A new way of analysing ethnographic data from a Danish healthcare setting is presented with a hybrid of both a phenomenological–hermeneutic approach of being in the world (Ricœur) [] and a cognitive ethnographic approach to track the conception and execution of tasks in cognitive systems (Hutchins) []. A hybrid method that can gain insight into how transfer of learning occurs in practice through specific descriptions of cognitive events and validated interpretations of similar events.
A recent systematic review [] reveals that methods for assessing HFS in healthcare SBT are varied and inadequate and that HFS is often trained in interaction with technical skills training. Abildgren et al. show that when HFS is taught simultaneously with technical skills, HFS often becomes a secondary focus to medical knowledge (e.g. diagnosis, procedures and treatment), and technical skills become preferred learning objectives. Furthermore, when SBT courses emphasise HFS, it is often done through reductive checklists and acronyms (e.g. A–E principles, SBAR), and HFS is often codified as technical-related skills (e.g. behaviour markers: asking for timeout, taking the leadership, delegating tasks ) to make them visible for monitoring. The conflation of technical skills with HFS adds further challenges to assessing transfer [].
Research on SBT has established that technical skills improve professional performance and bring novices to a higher performance level sooner than if they had to learn the same skill through apprenticeship [–]. However, it needs to be determined if SBT of HFS is beneficial to the same degree. The lack of knowledge on HFS training is potentially due to the absence of concrete methods for monitoring transfer of HFS after SBT or the difference between HFS and technical skills. Monitoring potential improvements in HFS is more complex than monitoring technical skills. Furthermore, cognitive, social, interactive and situational factors are often not interactionally visible nor easily quantifiable. Therefore, reporting on these elements demands a divided awareness and aligned perception of the HFS within the assessors [,].
Researchers [–] have explored HFS by assessing behaviour and behaviour changes among healthcare personnel using observational studies combined with different assessment methods. These studies typically focus on the performance progress within the simulation scenarios, immediately before and after SBT, assessed by pre-and post-tests (knowledge), pre-and post-scenario (following algorithms or acronyms), behaviour makers or numbers of adverse events (patient safety). The weakness of such approaches is the need to track how HFS training transfers to competency in daily practice. Similarly, research establishes that adding knowledge only sometimes leads to new competency in everyday practice [,]. Knowing is not the same as performing. Humans are living organisms comprehending as they act and vice versa []. Consequently, to provide evidence of the effectiveness of SBT in improving HFS, there is a need for a method that describes, understands and explains how transfer of HFS from SBT to competency happens. The existing methods are either limited to describing or explaining.
Aim
This article demonstrates a hybrid method containing a first- and third-person perspective. The hybrid comprises identifying, understanding, describing and explaining transfer of HFS into actual clinical competency. The aim is to demonstrate how the hybrid method can capture how transfer happens. The hybrid method can contribute to understanding how the participants transfer HFS from SBT to competency in everyday clinical practice. The approach (visualised in Figure 1), with both its Ricœur-inspired analysis (RIA) and Cognitive Event Analysis (CEA) of ethnographic data (abbreviated RI-CEA), illustrates how research in SBT on HFS can benefit from methods other than the typical quantitative and descriptive methods.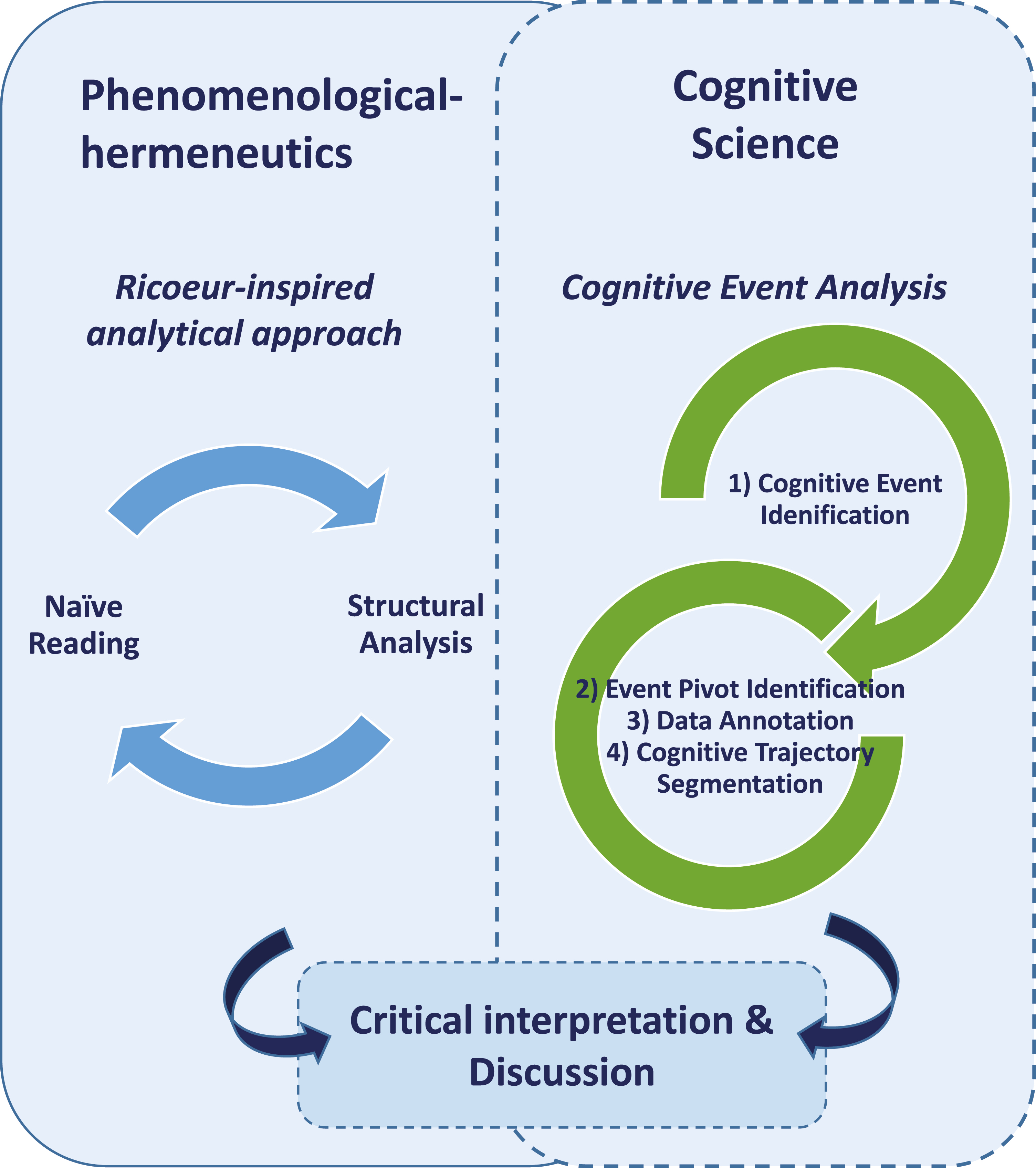 The SimLEARN case study
This article presents the hybrid method used in analysing data from a health science angle (Figure 2, the green path). The study is a health scientific substudy to SimLEARN. SimLEARN is a double PhD study with a social science angle [] and a health science angle. SimLEARN explores how qualified in-hospital healthcare personnel transfers HFS learned from SBT to competency in everyday clinical practice at two Danish hospitals. Danish public hospitals are teaching hospitals and continuously receive newly educated healthcare personnel. SimLEARN's joint data collection consists of ethnographic studies [,] of qualified healthcare personnel before, during and after an interdisciplinary in situ SBT course and followed the design shown in Figure 2. The researchers shadowed healthcare personnel with cameras. Five doctors and 12 nurses were shadowed in the clinical phase, and 4 nurses in the transfer phase. Other healthcare personnel were shadowed when they joined work with the ones shadowed. A total of 45 healthcare personnel participated in the SBT course, including doctors, nurses, nurse assistants and students; the researchers shadowed their training and debriefing with cameras.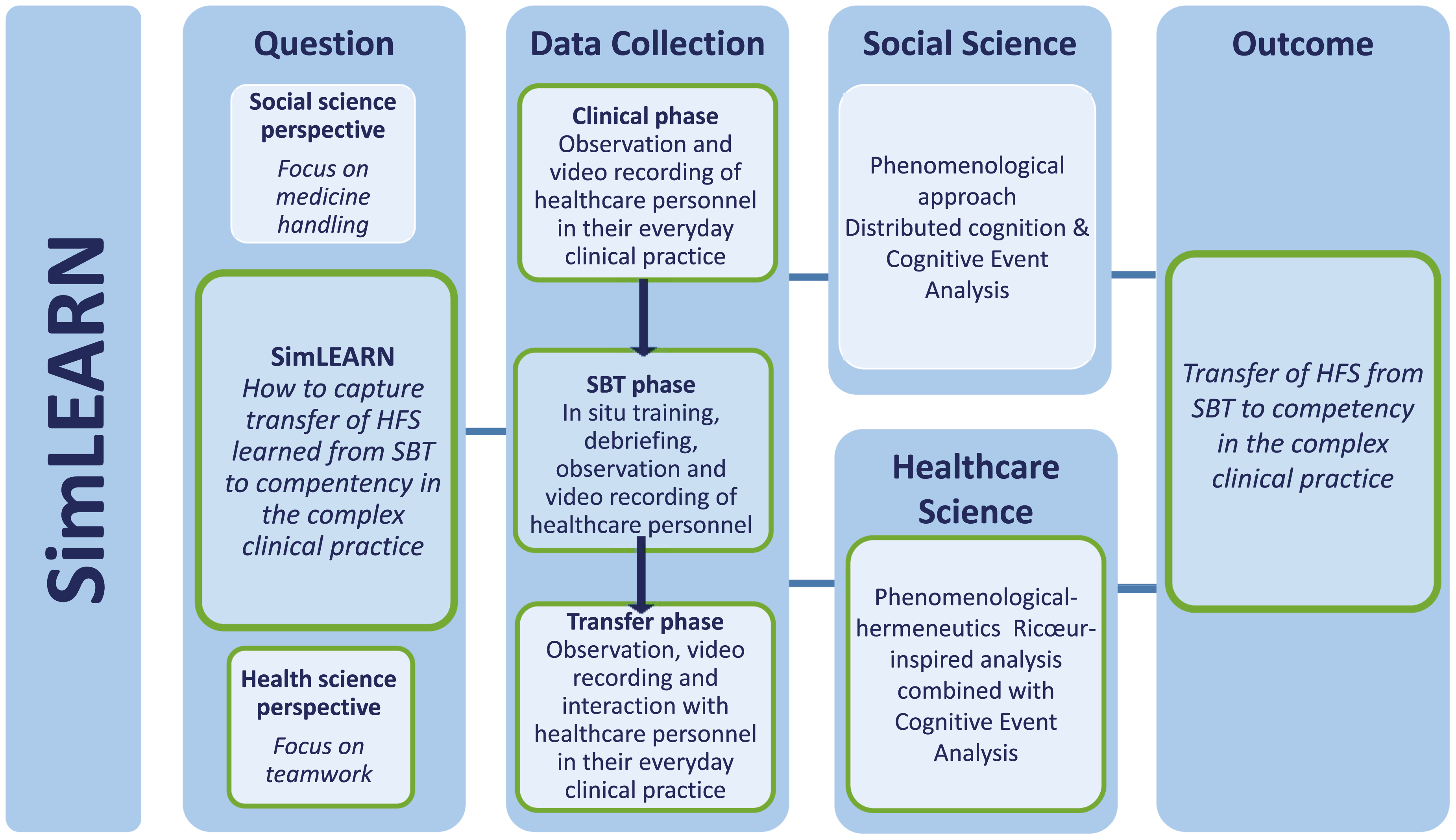 Through ethnographic examples, it is demonstrated how RI-CEA deliver insights into transfer of HFS from SBT courses into the clinical every day.The Danish Data Protection Agency (ID 19/14608) and the Ethical Board of the Region of Southern Denmark (ID 20182000-140) approved the study.
The SBT course intervention in the SimLEARN study consists of introductory information meetings and a screencast about HFS to all personnel in the clinical departments before the data collection. Then 8 days of SBT and an online after-course participant evaluation survey. Each SBT day consists of three 10–20 minutes of in situ training (scenarios) at the participating hospital departments. First, a scenario about medicine room teamwork and then two patient-focused scenarios about teamwork and communication. After each scenario, a 25–30-minute debriefing [,] by external facilitators. The participants are volunteers at-work healthcare personnel from the duty schedule selected to match an authentic competence combination with assistance from the ward heads on the training day. All personnel can opt to decline participation, and participants give informed consent. The ethnographic data include a diverse group of clinical personnel: doctors, nurses, physiotherapists, radiologists, nurse assistants, medical students, nursing students, technicians and secretaries.
Phenomenological–hermeneutic approach
The chosen qualitative and phenomenological–hermeneutic frame is based on the French philosopher Jean-Paul Ricœur, who combined phenomenology with critical hermeneutics. Ricœur's work bridges different philosophical positions (originating from, for example, Aristotle, Heidegger, Wittgenstein, Gadamer, Popper and Marcel) by synthesising parts into a critical phenomenological–hermeneutic philosophy [,].
The initial analytical approach of RI-CEA is inspired by a Ricœur-inspired approach to interpreting ways of being in the world [–], meaning the subjective experience of individuals and their comprehension of the lived life. The approach is created with reference to Ricœur's writings on language, reflection and text comprehension. Healthcare researchers have extended Ricœur's philosophy for analysing narratives, language, experiences, interviews and ethnographic data [,,,,]. In short, humans are affected by situations and orient themselves as part of those situations (instead of behaving rationally under universal rules), which becomes their lived experience and existence in the world [].
Observing video sequences and reading field notes as part of the RI-CEA method corresponds to how Ricœur views texts or narratives in the sense that the video sequences have left the original field and the participants with meaning to interpret. This resembles Ricœurs' claim that a text leaves the author's intentions. Thus, the object of study becomes the shared meaning of the video or text rather than the original intentions of the author or participants in the video. The researcher then listens to the meaning of the text and remains open to new details in video sequences or field notes for understanding, which emerge in front of the text [,]. Opening up the video or text through intuitive listening adds a first-person researcher's perspective on the data and grounds the research in the interpretation process by reclaiming the field, feelings, senses and thoughts that have escaped the researcher.
As shown in Figure 3, RIA is carried out on three levels: (1) naïve reading, where the researcher notes ideas, thoughts and impressions; (2) structural analysis; and (3) critical interpretation and discussion [,]. The analytical process is a dialectic process moving in a hermeneutical helix between naïve reading, structural analysis, and critical interpretation and discussion. This dialectic process between parts and the whole provides an enlarged, profound and sophisticated understanding of the participants' transformation of HFS.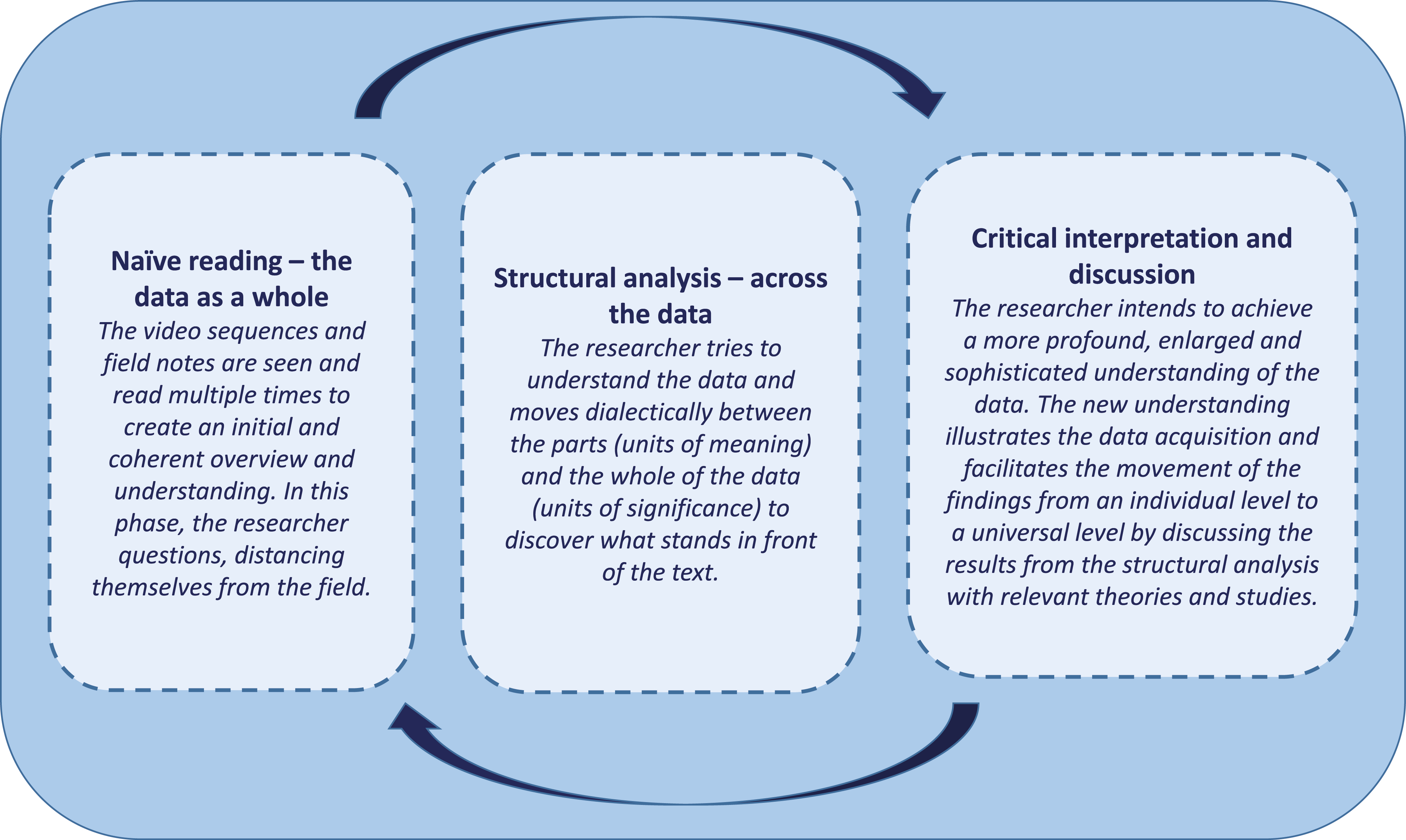 Cognitive Science and Cognitive Event Analysis
The RI-CEA method's second analytical approach is CEA. CEA is a method with roots in cognitive science, specifically cognitive ethnography and distributed cognition []. Cognitive science explores thinking processes and aims to understand peoples' thinking and behaviour by examining human tasks [,]. Distributed cognition is a theory with interdisciplinary roots but with a phenomenological understanding of the human as embedded in an ecology of brain, body, environment and social interactions [,,]. The primary hypothesis is that cognitive processes are distributed across brain, body, environment and over time []. Hence, cognition is not reducible to neural function but rather distributed in a network of relations [].
CEA is an interactivity-based method to explore cognitive processes and closely examine the bodily and inter-bodily dynamics of movements, gestures, symbols and activities. CEA builds on the thinking of Hutchins, Järviletho, Steffensen and others [,–]. CEA makes it possible to zoom in and out on the organisational domain and to explore the real-time dynamics of human behaviour, where sense-making is investigated as coordination between agent(s) and an environment extended in time and space. CEA studies human cognition by focusing on bodily and inter-bodily dynamics using ethnographic video data []. The starting point of the CEA analysis is to identify the cognitive result (i.e. the outcome of a given cognitive process) and work backwards from this to gain insight into what caused or conditioned this result, thus gaining an understanding of the cognitive system and the cognitive trajectory []. To do so, CEA follows five steps:
1) Cognitive event identification: Identifying a cognitive event to further inquiry. The event is defined as a change in the person–environment system from the observer's point of view, for example, activity of significance for the research question. The event is the bringing forth of the cognitive result.

2) Event pivot identification: Critical transition point(s) is revealed by identifying the emergence of the cognitive result and the causes and conditions that brought it forth.

3) Data annotation: The researchers annotate the data based on two independent questions: Which annotation categories does one select? And how fine-grained should the annotation be?

4) Cognitive trajectory segmentation: The researcher segments the video sequence into functionally or behaviourally defined phases by identifying annotation patterns. Having established behaviourally distinct patterns in different segments, these segments can be interpreted from a functional point of view.

5) Cognitive trajectory analysis: Finally, an interpretation of specific segments is completed based on the annotations and segmentations. The analysis identifies and explains the conditions and constraints that led to the specific cognitive results [].
Discussion of RI-CEAs applicability of confirming transfer
The research question's transfer perspective requires more than understanding and explaining how humans develop competency through educational interventions. RIA offers insight into the personnel's being in the world. CEA provides a change of lens on data from what emerges in front of the text (RIA) to an analysis of the personnel's cognitive changes (CEA) during and after the intervention.
Expanding RIA with CEA in a phenomenological–hermeneutic frame gives a broader picture of how healthcare personnel transfer HFS from SBT to competency in the everyday are gained. RIA investigates the understanding and explanation, whereas CEA investigates the how based on real-time dynamics and non-local conditions. The structural analysis clarifies that RIA cannot answer how transfer happens independently. A need to understand not only if transfer happens but also how transfer occurs; the CEA add-on is necessary to gain insight into the how. The SimLEARN case shows that integrating CEA in RIA's structural analysis broadens the analytical outcome and expands the research outcomes to a strengthened result. The CEA microlens perspective on the cognitive and real-time activities enhances the validation step of RIA.
The two methods complement each other and expand the analytical result of the ethnographic data. Both methods progress in movements between parts and whole, and between understanding and explanation, and in that way, complement each other. CEA works with the processes that occur in the interbody dynamics, whereas RIA offers the personnel's understanding and transformations across the three phases. This can show how cognitive processes present themselves in normative, structural and synchronic interbodily dynamics, which more traditional approaches in healthcare sciences cannot reach. The RI-CEA method is time consuming – more than 100 hours of video, field notes and self-reflection. Therefore, RI-CEA might not be the preferred method to confirm transfer. However, it can broaden the insight into the phenomena of transfer and be the foundation to develop a more useable and accessible approach to grasp transfer of HFS.
The theoretical and practical combination of analysing the data opened up the data to what was going on, what it was about, how did the personnel function and behave and did it change practice. The lived experiences of the qualified personnel during and after an SBT course reveal and confirm if HFS is transferred to everyday clinical practice. This lens shift adds an in-depth picture of the personnel's behaviour and possible behavioural changes in HFS skills after SBT. For instance, where a competent and an expert nurse meet. N1 gazes and smiles at N2, and N2 reduces her speed. This could indicate N1's new competency in reading N2's interruption readiness. When N2 reduces her walking speed, N1 initiates a talk and expresses her need. Expanding RIA with a CEA, a hybrid method has been designed, containing approaches which might give insight, understanding and explanation of transfer.
Conclusion
The hybrid method with RIA and CEA can capture transfer. The hybrid method expands the existing insight into how and if transferring human factor skills after simulation-based training becomes competency. By observing the data closely, the personnel's performance becomes visible, and it is possible to train towards a desirable goal (e.g. manage interruptions) and, through in-depth analysis, perceive how the personnel gains a new language around interruptions, and for some personnel changed behaviour. However, this hybrid method is time consuming and needs further development and evaluation.
Limitations
A few limitations of this description of the hybrid method must be highlighted. Firstly, the hybrid method is experimental in an ongoing project, and the final results still need to be done. The researchers tried to meet this challenge by unifying experts in both project methods (healthcare science and social science). This allowed the researchers to reflect on and discuss this hybrid method's pros, cons and extent. Secondly, the department leaders pointed out the participants, which could influence the psychological safety issue. However, all participants were allowed to decline participation. The course was not mandatory, and therefore, is a positively biased result possible because the participants had accepted SBT as a learning method [] and possibly wanted the study to succeed. The researchers tried minimising this limitation by selecting the participants on the day within the group of staff on duty. Finally, there is a risk of observer bias, a systematic variation in the observations [], which can reduce the hybrid method's applicability. This could have contributed to concluding transfer where there was none, but instead a coincidence. Nevertheless, video analysis makes it possible to revisit the situations, behaviour and responses from the participants and field notes multiple times, reflect and discuss these in the researcher group to validate the findings.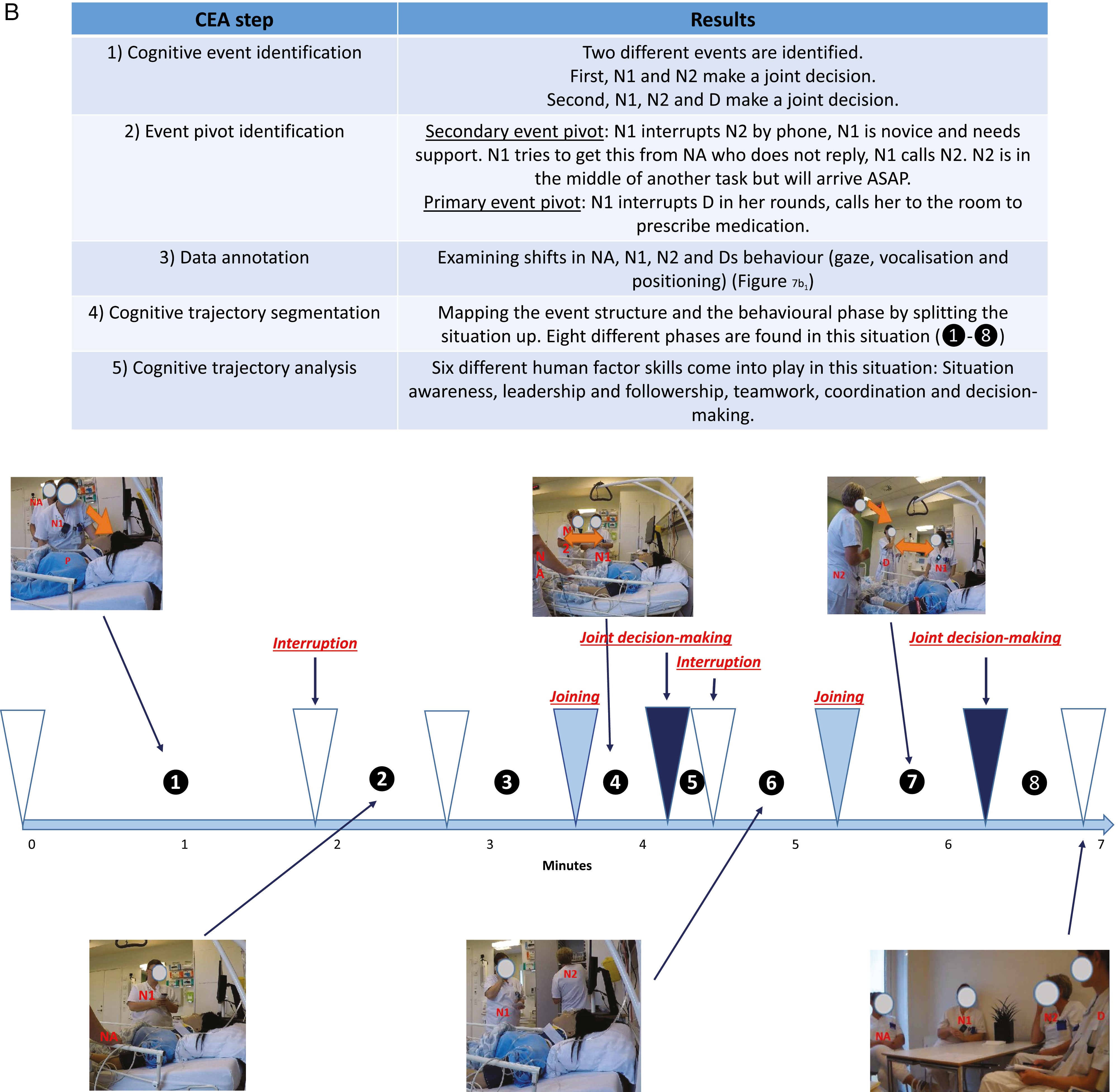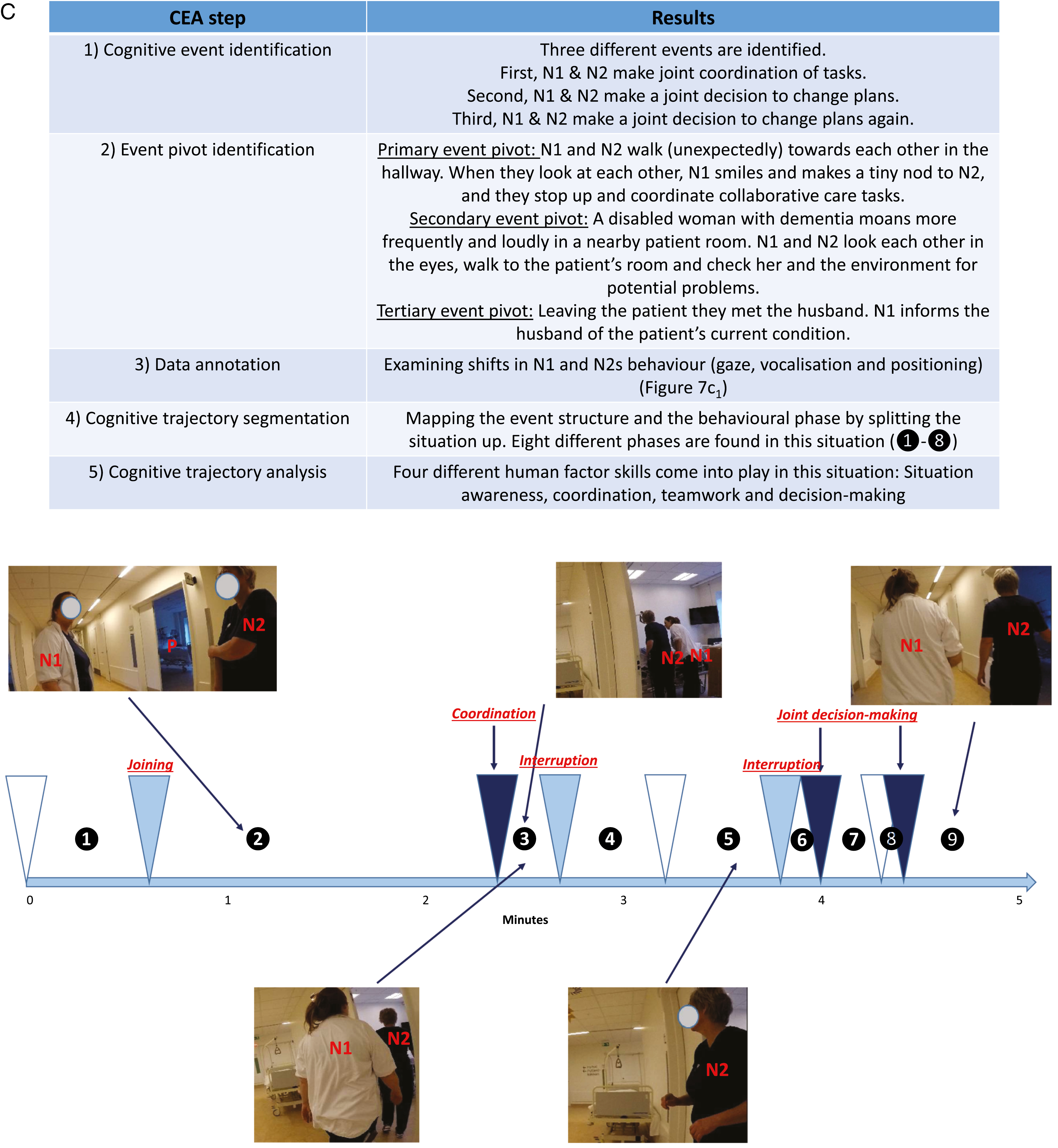 Notes
1
Human factor skills: human factors include social skills, cognitive skills, decision-making skills and puts emphasis on how the environment, the organisation and human psychology interact.
2
Competency: defined as a skill developed on basis of knowledge, experiences and behaviour towards qualified activities that can be put into action in everyday practice. Competency demands actions, which are both intentional and directed, as well as individual, personal and subjective. This definition is inspired by the Danish pedagogic term action competencies.
Declarations
Authors' contributions
Lotte Abildgren drafted the article. All authors critically revised the manuscript and the authors read and approved the final manuscript.
Funding
Anesthesiology and Intensive Care Department V, Odense University Hospital, Denmark, Department of Clinical Research, University of Southern Denmark & Hospital Sønderjylland, Aabenraa, Denmark.
Availability of data and materials
None declared.
Ethics approval and consent to participate
None declared.
Competing interests
None declared.
References
Russ

AL

,

Fairbanks

RJ

,

Karsh

B-T

,

Militello

LG

,

Saleem

JJ

,

Wears

RL
.
The science of human factors: separating fact from fiction
.
BMJ Quality & Safety
.
2013
;
22
(
10
):
802
–
888
.
Jensen

BB

,

Schnack

K
.
The action competence approach in environmental education
.
Environmental Education Research
.
1997
;
3
(
2
):
163
–
178
.
Ricoeur
P.
Interpretation theory: discourse and the surplus of meaning
.
Texas
:
Christian University Press, Fort Worth
.
1976
.
Hutchins
E.
Cognition in the wild
.
Cambridge, MA
:
MIT Press
.
1995
.
xviii
, p.
381
.
Abildgren

L

,

Lebahn-Hadidi

M

,

Mogensen

CB

,

Toft

P

,

Nielsen

AB

,

Frandsen

TF

, et al
The effectiveness of improving healthcare teams' human factor skills using simulation-based training: a systematic review
.
Advances in Simulation
.
2022
;
7
(
1
):
12
.
Andersen

SA

,

Konge

L

,

Caye-Thomasen

P

,

Sorensen

MS
.
Learning curves of virtual mastoidectomy in distributed and massed practice
.
JAMA Otolaryngol Head Neck Surgery
.
2015
;
141
(
10
):
913
–
918
.
Gustafsson

A

,

Pedersen

P

,

Rømer

TB

,

Viberg

B

,

Palm

H

,

Konge

L
.
Hip-fracture osteosynthesis training: exploring learning curves and setting proficiency standards
.
Acta Orthopaedica
.
2019
;
90
(
4
):
348
–
353
.
Madsen

ME

,

Konge

L

,

Nørgaard

LN

,

Tabor

A

,

Ringsted

C

,

Klemmensen

AK

, et al.
Assessment of performance measures and learning curves for use of a virtual-reality ultrasound simulator in transvaginal ultrasound examination
.
Ultrasound in Obstetrics & Gynecology
.
2014
;
44
(
6
):
693
–
699
.
Cavaness

K

,

Picchioni

A

,

Fleshman

JW
.
Linking emotional intelligence to successful health care leadership: the Big Five Model of Personality
.
Clinics Colon Rectal Surgery
.
2020
;
33
(
4
):
195
–
203
.
Gander

F

,

Gaitzsch

I

,

Ruch

W
.
The relationships of team role- and character strengths –balance with individual and team-level satisfaction and performance
.
Frontiers in Psychology
.
2020
;
11
:
1
–
15
.
Colman

N

,

Figueroa

J

,

McCracken

C

,

Hebbar

K
.
Simulation-based team training improves team performance among pediatric intensive care unit staff
.
Journal of Pediatric Intensive Care
.
2019
;
8
(
2
):
83
–
91
.
Emani

S

,

Allan

C

,

Forster

T

,

Fisk

A

,

Lagrasta

C

,

Zheleva

B

, et al.
Simulation training improves team dynamics and performance in a low-resource cardiac intensive care unit
.
Annals of Pediatric Cardiology
.
2018
;
11
(
2
):
130
–
136
.
Fernandez

R

,

Rosenman

ED

,

Olenick

J

,

Misisco

A

,

Brolliar

SM

,

Chipman

AK

, et al.
Simulation-based team leadership training improves team leadership during actual trauma resuscitations: a randomized controlled trial
.
Critical Care Medicine
.
2020
;
48
(
1
):
73
–
82
.
Wong

AH

,

Gang

M

,

Szyld

D

,

Mahoney

H
.
Making an "attitude adjustment": using a simulation-enhanced interprofessional education strategy to improve attitudes toward teamwork and communication
.
Simulation in Healthcare
.
2016
;
11
(
2
):
117
–
125
.
Epstein

RM

,

Hundert

EM
.
Defining and assessing professional competence
.
JAMA
.
2002
;
287
(
2
):
226
–
235
.
Rotthoff

T

,

Kadmon

M

,

Harendza

S
.
It does not have to be either or! Assessing competence in medicine should be a continuum between an analytic and a holistic approach
.
Advances in Health Sciences Education
.
2021
;
26
(
5
):
1659
–
1673
.
Steffensen
SV
.
Human interactivity: problem-solving, solution-probing and verbal patterns in the wild
. In:
Cowley

SJ

,

Vallée-Tourangeau

F
, editors.
Cognition beyond the brain: computation, interactivity and human artifice
.
London
:
Springer London
.
2013
. p.
195
–
221
.
Lebahn-Hadidi
M.
In the guise of safety: the cultural-cognitive ecosystem of medication errors and patient safety
. Odense: University of Southern Denmark.
2021
.
Spradley
JP.
Participant observation
.
Fort Worth
:
Harcourt Brace College Publishers
.
1980
.
Pedersen

Arr

,

Humle

DMr.
Doing organizational ethnography
.
London
:
Routledge
.
2016
. x, 200 sider p.
Gardner
R
.
Introduction to debriefing
.
Seminars in Perinatology
.
2013
;
37
(
3
):
166
–
174
.
Steinwachs
B
.
How to facilitate a debriefing
.
Simulation & Gaming
.
1992
;
23
(
2
):
186
–
195
.
Kemp
P.
Tid og fortælling: introduktion til Paul
Ricœur
.
[Ny udgave] Birkerød
:
Sommer
.
2014
.
180
sider p.
Hermansen

M

,

Dahl Rendtorff

J.
En hermeneutisk brobygger – tekster af Paul Ricoeur
.
Hermansen

M

,

Dahl Rendtorff

J
, editors.
Aarhus
:
Klim
.
2002
.
Pedersen
BD.
Sygeplejepraksis – Sprog & Erkendelse: Det Sundhedsvidenskabelige Fakultet
,
Aarhus Universitet
, Aarhus.
1999
.
Agerskov

H

,

Ludvigsen

MS

,

Bistrup

C

,

Pedersen

BD
.
Living kidney donors' experiences while undergoing evaluation for donation: a qualitative study
.
Journal of Clinical Nursing
.
2015
;
24
(
15–16
):
2258
–
2267
.
Larsen

MK

,

Mikkelsen

R

,

Budin

SH

,

Lamberg

DN

,

Thrysoe

L

,

Borregaard

B
.
With fearful eyes: exploring relatives' experiences with out-of-hospital cardiac arrest: a qualitative study
.
Journal of Cardiovascular Nursing
.
2023
;
38
(
1
):
E12
–
E19
.
Hounsgaard
L.
Potentiel sygdom sætter spor- Kvinders oplevelse af sygdom i et forbindelse med celleforandringer efter screening for livmoderhalskræft
.
Aarhus
:
Faculty of Health Sciences, University of Aarhus
.
2004
.
Simonÿ

C

,

Specht

K

,

Andersen

IC

,

Johansen

KK

,

Nielsen

C

,

Agerskov

H
.
A Ricoeur-inspired approach to interpret participant observations and interviews
.
Global Qualitative Nursing Research
.
2018
;
5:1–10
.
Svenningsen

H

,

Egerod

I

,

Dreyer

P
.
Strange and scary memories of the intensive care unit: a qualitative, longitudinal study inspired by Ricoeur's interpretation theory
.
Journal of Clinical Nursing
.
2016
;
25
(
19–20
):
2807
–
2815
.
Nygren

L

,

Blom

B
.
Analysis of short reflective narratives: a method for the study of knowledge in social workers' actions
.
Qualitative Research
.
2001
;
1
(
3
):
369
–
384
.
Geanellos
R
.
Exploring Ricoeur's hermeneutic theory of interpretation as a method of analysing research texts
.
Nursing Inquiry
.
2000
;
7
(
2
):
112
–
119
.
Ricoeur
P.
Från text till handling: en antologi om hermeneutik
.
4
. upplagen ed.
Stockholm
:
Brutus Östlings Bokförlag Symposion
.
1993
. p.
244
.
Wood
D.
On Paul Ricoeur: narrative and interpretation
.
London
:
Routledge
.
1991
. xiii,
209
s. p.
Ball

LJ

,

Ormerod

TC
.
Putting ethnography to work: the case for a cognitive ethnography of design
.
International Journal of Human-Computer Studies
.
2000
;
53
(
1
):
147
–
168
.
Bender

A

,

Hutchins

E

,

Medin

D
.
Anthropology in cognitive science
.
Topics in Cognitive Science
.
2010
;
2
(
3
):
374
–
385
.
Goodwin
C
.
Practices of color classification
.
Mind, Culture, and Activity
.
2000
;
7
(
1–2
):
19
–
36
.
Trasmundi
SB.
Errors and interaction: a cognitive ethnography of emergency medicine
.
Amsterdam/Philadelphia, PA: John Benjamins Publishing Company
.
2020
.
Hollan

J

,

Hutchins

E

,

Kirsh

D
.
Distributed cognition: toward a new foundation for human-computer interaction research
.
ACM Transactions on Computer-Human Interaction (TOCHI)
.
2000
;
7
(
2
):
174
–
196
.
Hutchins
E
.
How a cockpit remembers its speeds
.
Cognitive Science
.
1995
;
19
(
3
):
265
–
288
.
Steffensen

SV

,

Vallée-Tourangeau

F

,

Vallée-Tourangeau

G
.
Cognitive events in a problem-solving task: a qualitative method for investigating interactivity in the 17 animals problem
.
Journal of Cognitive Psychology
.
2016
;
28
(
1
):
79
–
105
.
Steffensen
SV
.
Cognitive probatonics: towards an ecological psychology of cognitive particulars
.
New Ideas in Psychology
.
2016
;
42
:
29
–
38
.
Järvilehto
T
.
The theory of the organism-environment system: I. Description of the theory
.
Integrative Physiological and Behavioral Science
.
1998
;
33
(
4
):
321
–
334
.
Lebahn-Hadidi

M

,

Abildgren

L

,

Hounsgaard

L

,

Steffensen

SV
.
Integrating cognitive ethnography and phenomenology: rethinking the study of patient safety in healthcare organisations
.
Phenomenology and the Cognitive Sciences
.
2021;22(1):195–215
.