Background:
Lifestyle factors are a significant cause of mortality and morbidity in England [1]. Physiotherapists are well placed to help people to make healthy lifestyle choices, however junior physiotherapists do not feel well equipped to have these conversations [2]. An innovative teaching session was carried out with physiotherapy students to 1) increase their confidence in addressing lifestyle choices and 2) equip them with communication skills to decrease fear of these difficult conversations. The session was grounded in the theory of motivational interviewing [3].
Activity:
Teaching staff created role play scenarios. These were reviewed by service users for authenticity. The scenarios included a teenager with cystic fibrosis who was not compliant with chest clearance exercises and a person suffering falls secondary to alcohol misuse. The final scenario involved a discussion about smoking with a person recently diagnosed with a chronic lung condition and their partner. In a face-to-face immersive fishbowl setting, students took part in the scenarios with experienced actors as service users. The session was collaborative, where students could 'time out' to seek guidance from their peers. The actors adapted their communication depending on how they felt in the conversation. After each scenario the actors provided feedback from the service user perspective.
Results:
There was excellent engagement in the session. Students found the final scenario the most challenging as they struggled to gain a rapport with the patient actor due to the partner frequently interrupting. The cohort expressed different ideas of how to manage this situation. Feedback from the actors helped the students to consider the perspective of the partner and how their interference was due to worry. Pre- and post-session data on a five-point Likert scale demonstrated improved knowledge of motivational interviewing and improved confidence to have lifestyle change conversations (Figure 1). Importantly, all students (n=12) felt empowered by the session and wanted to make changes to their communication style. Subjective data collected from the students was uniformly positive. Students commented that the role play felt 'real', demonstrated by this quote 'Amazing! Very realistic and made me think further and delve deeper'.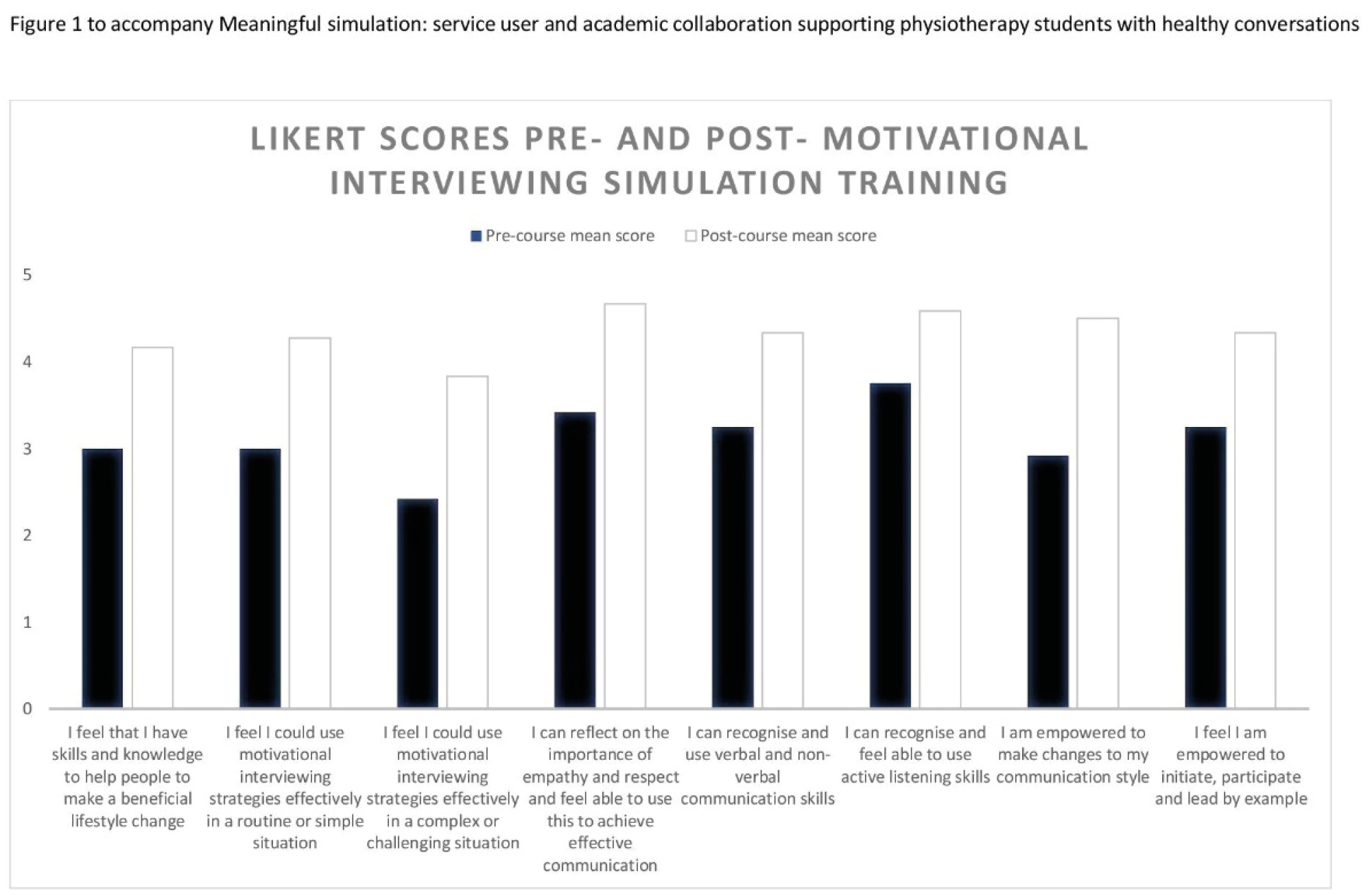 Conclusion:
The immersive simulation experience motivated and empowered the physiotherapy students to talk about lifestyle change with service users. The participative forum felt 'real' and students left the session better equipped to have lifestyle change conversations with service users. This should help to create future physiotherapists who can help people to live healthy lives.
References
1. Office for National Statistics. What is happening to life expectancy in England? England: The King's Fund; 2022. https://www.kingsfund.org.uk/publications/whats-happening-life-expectancy-england [Accessed on 13/05/2022]
2. Walkenden S, Walker KM. Perceptions of physiotherapists about their role in health promotion at an acute hospital: a qualitative study. Physiotherapy. 2015;101(2):226–231
3. Rollnick S, Miller WR, Butler CC. Motivational Interviewing in Health Care. London: The Guildford Press, 2008.