Background:
Atypical sensory processing is described as a difficulty in regulating and managing sensory input in a meaningful, ordered way to make sense of the world and environment in which you find yourself. Sensory processing disorder (SPD) is common in individuals with autism, pervasive development disorders, and neurodivergent conditions [1,2,3]. The National Institute of Clinical Excellence (NICE) [2] suggest sensory processing disorders are often overlooked by education, social, and healthcare professionals, leading to health and social inequalities with individuals less able to access 'support and services that they need to live independently' [2 p5]. The Experiencing Sensory Overload Project (ESOP) aims to champion inclusive practice and reduce health inequalities by encouraging and enabling healthcare professionals to reconsider their approach, and their working environments to create sensorily safe spaces for individuals who may experience sensory overload.
Activity:
The authors recognised there was insufficient education on SPD within the current nursing curriculum. To address this theory/practice gap, training was sought externally. This consisted of a short simulation-based activity with training delivered by carers who had experience of sensory overload. This was well evaluated by the student participants; however lecturing staff felt the training did not meet our university teaching and learning standards. The positive student feedback provided the impetus to forge links with digital arts colleagues to co-create a robust, pedagogically sound and immersive learning experience.
Findings:
The collaborative journey of ESOP has been led and facilitated by academics from the School of Nursing and Midwifery and the School of Arts in a cross-school alliance (Figure 1). Nursing academics acted as 'clients' whilst the creative media team worked as 'creatives' developing a high-fidelity Virtual Reality (VR) experience that gives users an insight into sensory overload. Post-pandemic, this project has relaunched with the creation of a film of two young people with SPD, frankly, discussing their life opportunities and challenges. Further work continues on immersive learning experiences. These resources have been scaffolded to form a cohesive simulation programme that draws on sound pedagogical approaches and blended learning for healthcare professionals.
Conclusion:
Immersive learning experiences that recognise and champion diversity must be integrated into the curricular of all healthcare professionals to promote the highest standards of patient care. Meeting this demand with innovative, immersive technology demands collaborative working. This cross-school alliance has produced a learning experience that can work towards reducing health inequalities, promoting independence, and championing inclusive practice.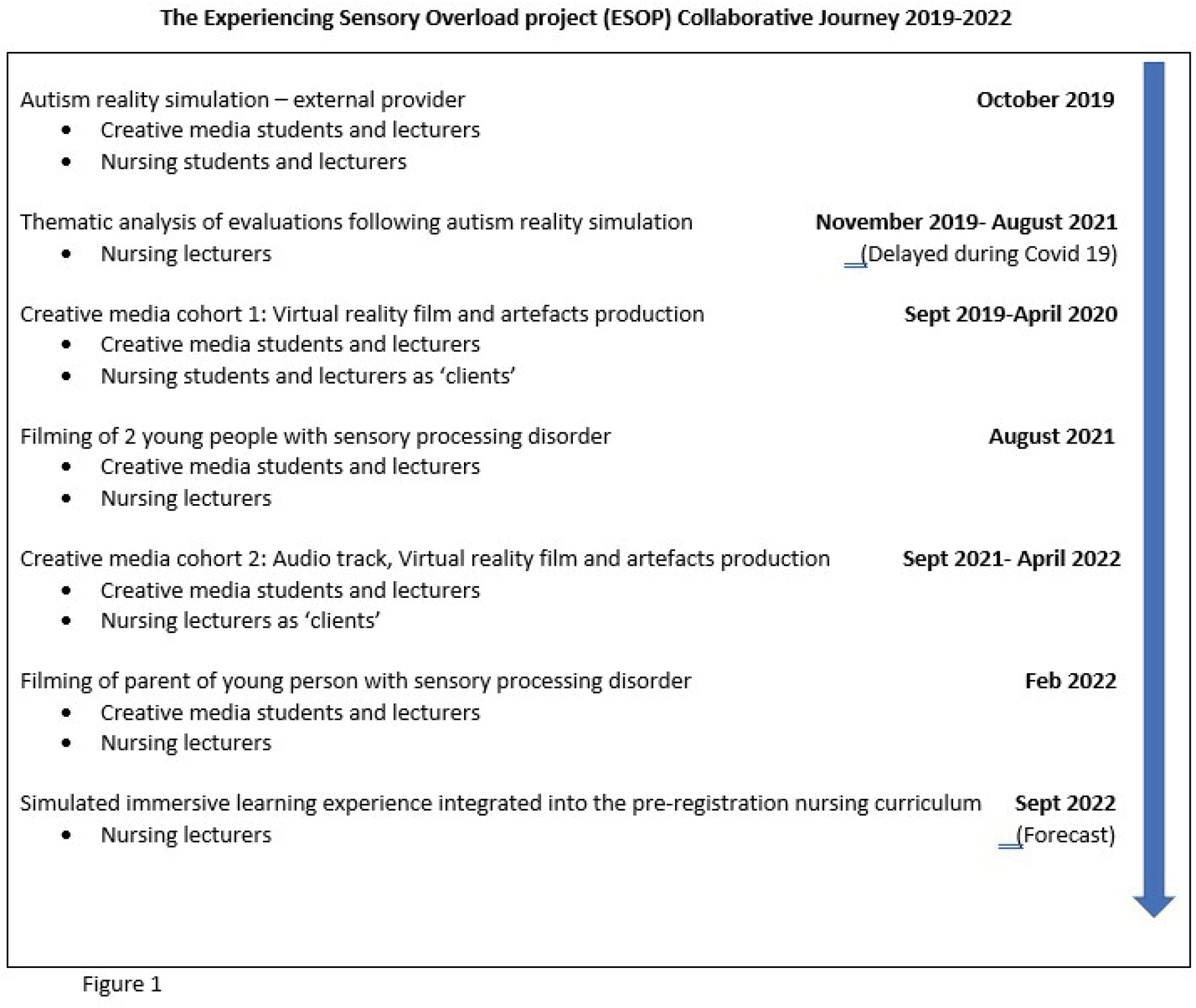 References
1. Walbam KM. The relevance of sensory processing disorder to social work practice: An interdisciplinary approach. Child and Adolescent Social Work Journal. 2014;31(1):61–70.
2. National institute Clinical Excellence. Autism spectrum disorder in adults: diagnosis and management. London: NICE; 2012. 1–42. CG142
3. Bolaños C, Gomez MM, Ramos G, Rios del Rio J. Developmental risk signals as a screening tool for early identification of sensory processing disorders. Occupational therapy international. 2016;23(2):154–164.